LVT vs. LVP Flooring: What's the Difference?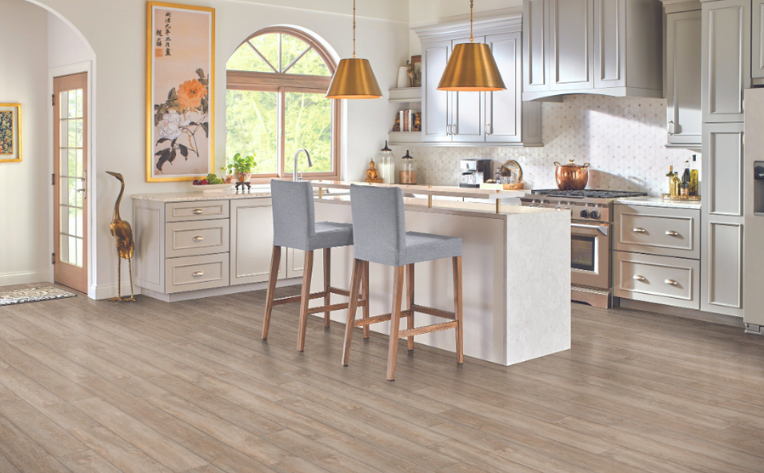 LVT (Luxury Vinyl Tile) and LVP (Luxury Vinyl Plank) are two different types of luxury vinyl flooring. LVT is vinyl flooring designed in a tile shape, whereas LVP is vinyl flooring designed in planks to resemble traditional hardwood floor planks.
What Makes Luxury Vinyl Unique?
Luxury vinyl is a specific type of vinyl flooring that stands out among the rest. Old-school vinyl flooring used to be offered in sheet form only and therefore wasn't able to mimic the realistic look that luxury vinyl floors now can. Modern LVT and LVP floors are now offered in countless patterns and colours and designed so that they appear to look almost exactly like natural flooring materials such as wood, stone, and tile.
Some LVT and LVP flooring options are even textured to appear like these materials as well. With features like grout seams and various luxury vinyl tile and luxury vinyl plank flooring styles, they present an impressive range of design options and choices.
Waterproof Attributes of LVP and LVT Flooring
Thanks to their multiple layers of plastic, both LVT and LVP floors are waterproof, making them an ideal flooring choice for any room in your house, especially kitchens, bathrooms, laundry rooms, and basements. Luxury vinyl tiles and luxury vinyl plank floors are designed to withstand moisture, heavy foot traffic, everyday wear, and plenty of scratches and spills, which is perfect for active households with little ones or furry friends.
Exploring VCT Flooring
VCT stands for Vinyl Composite or Vinyl Composition Tile flooring. Though VCT floors are also made with some vinyl, unlike LVT floors, they contain less plastic and more natural materials, such as limestone. Because of this, VCT floors are more porous than LVT floors, and thus they are not as waterproof and require more maintenance.
Understanding Engineered Vinyl Flooring
Engineered Vinyl Plank (EVP) is a subset of luxury vinyl planks. EVPs are even more durable than many LVP options, as they're built with the strongest high-density fiberboard core and have a rigid stone-based core. EVPs are often considered the luxury vinyl planks on the market that most closely resemble natural hardwood flooring, but personal preference plays a significant role in the selection process.
What's the Key Difference Between LVT and LVP Flooring?
To sum it up, the main difference between luxury vinyl tile and luxury vinyl plank lies in their appearance and design. LVT is crafted in a tile format, resembling traditional square tiles that are designed to look like ceramic, porcelain or natural stone tile, while LVP is designed in plank shapes, mimicking the look of hardwood floor planks. This key difference influences the visual layout and installation methods, catering to distinct preferences and styles. While LVT reflects a tiled aesthetic, LVP offers a more linear appearance, resembling hardwood floors, making the choice between the two primarily a matter of personal taste and the desired design outcome.
Frequently Asked Questions
Explore a few commonly asked questions about LVT vs. LVP in our FAQ section, providing quick and comprehensive answers to guide your decision-making process.
Do LVT and LVP require specific maintenance routines?
While both of these flooring options are relatively low-maintenance compared to other floors on the market, it's important to follow a few basic maintenance practices to ensure they last for years to come. Regular vacuuming and cleaning with a soft, damp mop is sufficient to keep your floors looking great. Plus, using felt pads under heavy furniture and avoiding harsh cleaners can help maintain their appearance and durability over time.
How does the cost of luxury vinyl flooring compare to other flooring options?
While the cost of LVT and LVP flooring depends on the quality, brand, and installation requirements, most of these luxury vinyl options are cost-effective when considering their durability and long-term benefits. While these floors might have a higher price tag for their initial cost than some traditional options, they often prove more cost-efficient in the long run due to their long lifespan and minimal maintenance needs.
Can luxury vinyl flooring be installed over existing floors?
In many cases, yes! This flooring can be installed by floating the planks or tiles over an existing subfloor, which often saves time and money. However, it's crucial to ensure your current floor is level, clean, and free of any damage for the best long-term results.
Expert Installation for Superior Results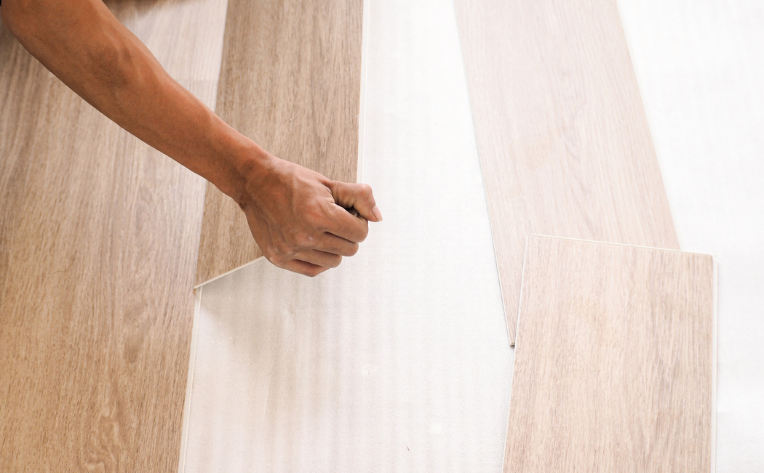 Enhance the beauty of your space with confidence by entrusting the installation of your luxury vinyl tile or luxury vinyl plank flooring to a team of skilled professionals. While the idea of DIY installation may be tempting, the precision and expertise provided by our professional installers are unmatched.
At Flooring Canada, our experienced installers are equipped with the knowledge, tools, and proficiency to ensure a flawless installation, minimizing the risk of errors or imperfections. By consulting our team, you'll save time, eliminate the stress of installation complexities, and ensure your flooring is expertly installed for long-lasting durability and elegance, transforming your space effortlessly.
Ready to Transform Your Space?
Our experts are ready to guide you to the perfect fit for your space, offering unparalleled durability, style, and ease of maintenance. Discover your ideal match today at Flooring Canada by delving into our extensive catalog of luxury vinyl flooring options.