Hardwood Flooring in Vaughan, ON, Canada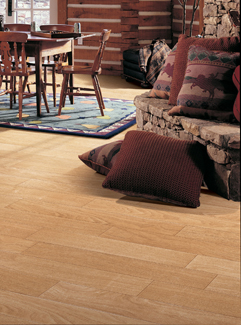 Enhance your property in both design and value by investing in our hardwood flooring in Vaughan, ON, Canada. When you need help from the experts in any aspect of the process, GTA Flooring is the place for you. We assist with browsing, buying, and installing, and provide interior design help along the way.
Replacing outdated floors with rich and solid hardwood flooring is one of the easiest ways to boost your property value. Hardwood is designed for long lifespans, so you won't have to worry about replacing it for a good many years. Material like this never goes out of style, so you can count on showing it off for as long as you have it. Our stock is easy to clean and maintain, so you should have no problem holding onto it for the long haul.


Come to Us for More Choices and a Better Value
No two hardwood floors are alike, and our showroom boasts a broad selection of grains, patterns, and brand names. You can go light or dark, and pick the pattern that best reflects your personality. We're happy to help you find the floor that matches all of your criteria.
Our hardwood flooring prices are a much better value than other places because our business has nationwide buying power. We can get deals that other stores can't, giving you a high-end floor for less than you would pay elsewhere. You can even start the process with a free consultation, where we'll help you find the hardwood that works for you and your space. Our workers handle all of the labor and bring their own equipment, so all you have to do is schedule a date and time.


Why Choose Us for Installation?
The one part of any flooring project you never want to skimp on is the installation. A poor job will leave you needing expensive repairs and total replacement a lot sooner than you should. Inexperienced contractors may seem to save you money at first, but they're sure to cost you more later. We can set you up with hardwood floor installation that's professional quality with the proper attention to detail, so you get what you pay for. Even basements can be transformed from quality hardwood flooring installation. They add elegance, warmth, and natural beauty that you can't get any other way. If you're thinking of turning an old, unused basement into a workable space, stop by our home flooring store today and we'll help you make it happen.


About Our Solid Hardwood Flooring Brands
You'll be happy to know that our hardwood brands are healthy and creative ones. Lauzon manufactures hardwood right here in Canada, and does so in a way that's healthy with no formaldehyde or volatile organic compounds. You won't have to worry about your kids or pets being exposed to any harmful chemicals. Beaulieu Canada has also undergone green initiatives and keeps up with the latest trends and styles so you enjoy today's design hits today.
Contrary to popular belief, you aren't limited to brown when buying hardwood. Shaw designs strong floors in colors ranging from beige to black to gold, green, red, and orange. Armstrong takes the customization even further with a range of choices in the gloss, thickness, and edge type. We also carry Mohawk, which is one of the most recognized brands in the flooring industry and is sold all over the world. Any one of these is sure to satisfy all of your hardwood wishes.



Contact us to browse our different types of hardwood. We sell and install them for anyone in Vaughan, Mississauga, and Oakville, ON, Canada, and neighboring areas.