Laminate Flooring Store in Vaughan, ON
GTA Flooring Canada is your go-to destination for top-quality laminate flooring. If you're in search of an affordable and practical flooring solution, our laminate floors are perfect for busy households. We proudly serve Vaughan, ON, and the surrounding communities, offering a large selection of laminate flooring products. Step into our showroom and browse the amazing textured and captivating prints available in our laminate collection. Our inventory features exceptionally durable and visually appealing products that are sure to catch your attention. Discover how our waterproof laminate floors can enhance the aesthetics of any space in your home.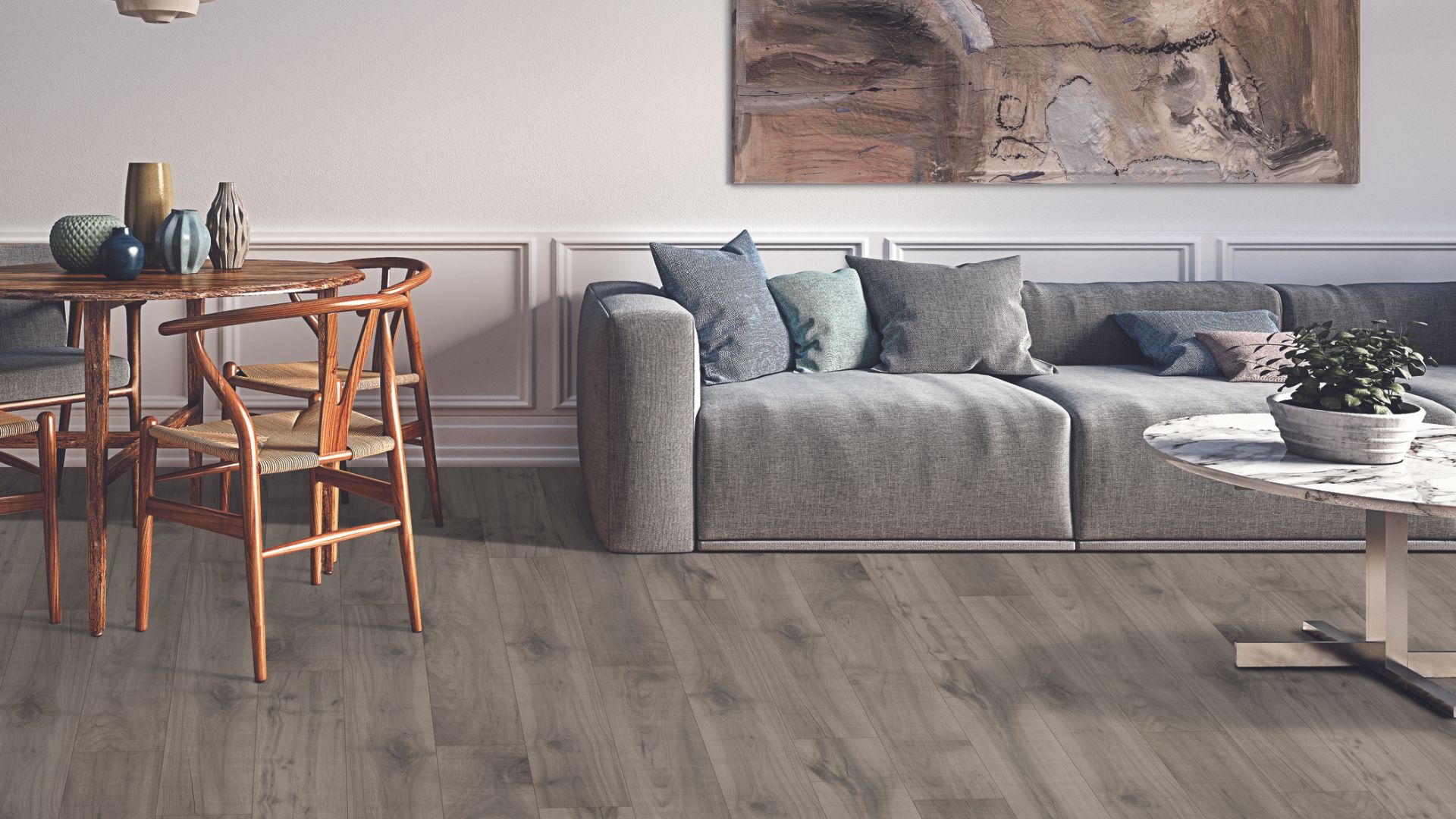 Explore our Diverse Range of Laminate Flooring Options
We offer two primary options for laminate floors: laminae wood and laminate tile. Each option has unique characteristics, allowing you to achieve the desired look and feel for your home. Let's dive deeper into these types of laminate flooring:
Laminate Wood Flooring: Indulge in the timeless charm of genuine hardwood floors without breaking the bank! Our laminate wood flooring utilizes cutting-edge technology to imitate the look and feel of hardwood flooring perfectly. Not only does our laminate wood flooring excel in visual appeal, but it also offers exceptional durability. It stands strong against moisture, scratches, stains, and fading, making it the ideal choice for busy households with pets and kids.

Laminate Tile Flooring: Immerse yourself in the allure of ceramic or stone tiles without the hassle of grout lines and chilly floors! Our laminate tile flooring offers a seamless style, comfort, and affordability blend. Choose from a wide selection of designs and colours to indulge in the elegance of marble, travertine, or even porcelain. Experience the best of both worlds with laminate tile flooring - a practical and visually stunning choice for your home.
Discover the Amazing Benefits of Laminate Flooring
When it comes to renovating your home or office, laminate flooring stands out, offering numerous benefits beyond its durability and affordability. Let's explore the advantages of selecting laminate for your flooring needs:
Long Lifespan: Built to last, laminate flooring boasts an expected lifespan of 15 years or longer. Its durability ensures that you won't have to worry about frequent replacements, saving you money in the long run.

Low Maintenance: Say goodbye to extensive floor upkeep. Laminate flooring requires minimal maintenance, making it a convenient choice for busy individuals. A simple sweep or vacuum followed by a weekly mopping is usually sufficient to keep your laminate floors looking clean and fresh.

Resistance to Stains, Cracks, Dents, and Fading: Designed to withstand the daily wear and tear of high foot traffic, laminate flooring is highly resistant to stains, cracks, fading, and dents. Its ability to maintain its beauty and integrity over time makes it an excellent option for households with pets or kids and commercial settings.

Versatile Aesthetics: With a wide range of designs and finishes, laminate flooring allows you to achieve the fashionable look of hardwood, ceramic, or marble flooring without the hefty price tag. Whether you prefer the warm appeal of wood or the sleek elegance of tile, laminate offers the versatility to match any aesthetic preference.
Laminate vs. Hardwood
While laminate and hardwood flooring can look similar, they are vastly different flooring types. Laminate flooring offers an affordable and low-maintenance alternative to hardwood. It mimics the natural look of wood with realistic patterns and textures, making it difficult to distinguish from hardwood at first glance. Laminate is highly durable, resistant to scratches, and easier to clean, making it ideal for busy households and areas prone to moisture.
On the other hand, hardwood flooring boasts timeless elegance and charm. It has authentic beauty and character that can enhance the value of your home. Hardwood provides natural warmth and the potential for refinishing, allowing you to revitalize the appearance if needed. However, hardwood flooring is generally more expensive upfront and requires regular maintenance to preserve its condition.
Professional Laminate Flooring Installation
Accurate installation is key to achieving a beautiful and functional result. Save time and resources by opting for our professional floor installation service, provided by our in-house team. Our skilled technicians have the expertise to install laminate floors with precision and care, whether for a single room or your entire home. Let us handle the hassle, working around your schedule for maximum convenience. Experience the benefits of professional flooring installation. Contact us today to schedule your installation and enjoy a flawless finish that enhances the beauty and functionality of your space.
Rest easy knowing that our Ultimate Confidence Guarantee backs our work. If any installation-related repairs are needed within 30 days, they are free of charge. With our simple click system, our team can efficiently complete the renovation, minimizing disruptions to your household.
Contact us to learn more about our laminate flooring options and services. We proudly serve Vaughan, ON, and the surrounding area.