Luxury Vinyl Flooring in Vaughan, ON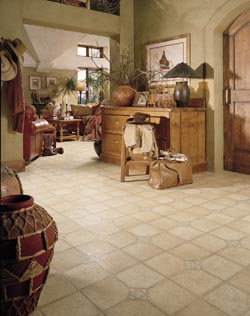 Give your home a durable and attractive new upgrade, by choosing luxury vinyl flooring in Vaughan, ON. At GTA Flooring Canada, we offer a huge selection of luxury vinyl surfaces in a range of colors and patterns for your home.
Vinyl works perfectly in nearly any room, adding the aesthetic you want. Whether you are looking for the timeless appearance of hardwood or the smooth feeling of tile, luxury vinyl is the right choice for your flooring needs. Additionally, a luxury vinyl surface is typically more economical than other traditional floors, allowing you to add cost-efficient beauty to your home.
Unrivaled Resilience
As a busy homeowner, you need a flooring solution that you know will hold up to the hectic life of your home. Thankfully, luxury vinyl is the perfect solution. Luxury vinyl floor tiles let you add the beauty of ceramic or stone while providing the stain resistance and ease of maintenance of vinyl. This means that spills and messes in your kitchen will easily wipe away from your new vinyl floor.
If you prefer the timeless look of wood, but do not want to have to worry about moisture damaging the surface, then luxury vinyl planks are the right choice. These planks mimic the aesthetic of real hardwoods while providing the exceptional water resistance of vinyl. This way, you can easily add the wood look to your bathroom or basement and not need to worry about your floor warping.
Additionally, a luxury vinyl flooring installation is softer underfoot when compared to natural stone, ceramic, or wood. This helps to make your home more comfortable to walk around in, while also providing a safe area for your children to play on. To learn more about the many significant advantages a luxury vinyl floor has to offer for your home, or to explore our collection of styles available, then visit our store. Our team is always happy to help you find the perfect flooring solutions for every room in your home.
Complete and Professional Installation
After choosing your new luxury floors, let our team take care of the installation. Our professional installers have the tools and skills needed to properly lay out your new floor, ensuring it fits seamlessly into your rooms. Additionally, when installing a luxury vinyl surface, we can typically place it directly over the old floors. This helps us complete the job even sooner, allowing you to enjoy your new luxury vinyl flooring right away.



Contact us when you are looking to update your home with a resilient and beautiful new flooring solution. We proudly serve customers in Vaughan, ON, and the surrounding areas.