Leading Options for Luxury Vinyl Tile in Vaughan, ON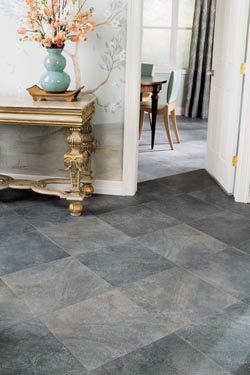 GTA Flooring Canada is the name to know when you are ready to update your flooring from the same old thing to something special. At our showroom, it's always the right time and place to get the best in celebrated flooring materials like our luxury vinyl tile in Vaughan, ON.
We want to make your projects a little easier by combining continuous opportunities to save with top-shelf materials that deliver the performance and style you desire. From our current specials to our everyday commitment to customer service, you're sure to find all you need to accomplish your flooring vision with our vinyl.


Envision Your Home with Premium Vinyl
Though often associated with its uniquely high value per square foot, our vinyl is an upscale option in its own right. We've raised the bar for modern flooring with luxury vinyl tiles that allow our customers to craft elevated ambiance with a wide range of financial and functional benefits included.
When you choose our products, you gain access to our experienced design staff as well as our industry connections, granting you all the confidence of working with a definitive leader in local flooring. In addition, you'll enjoy all the unique advantages that vinyl has to offer, including:
Heating & Cooling Benefits
Comfortability Underfoot
Durability, Even when Exposed to Heavy Traffic
Complete Customizability
Straightforward Installation
Easy Maintenance
With so many benefits, it's easy to see what makes this material one of the most popular in modern homes all over the world. Imagine any room in your house with smooth, dependable new floors that match your style and retain their value with minimal upkeep compared to most hard surfaces.


Natural-Looking LVT Floors
Though it comes in a wide range of colors, textures, and cuts, vinyl's most popular use is as a great-looking alternative to natural materials like hardwood and stone. By emulating the surface appearance and installation design of these classic flooring options, our luxury tiles deliver a similarly stunning result that can stand up to climates and conditions that might not be favorable to the traditional material.
In addition, vinyl's resilience and easy upkeep mean that you'll retain the appearance of your floors without highly specialized or labor-intensive maintenance. This is an ideal balance for customers who want to impress with a wood or stone look, but don't want to get bogged down in continuous cleaning and repair work.
If you are unsure if a luxury vinyl tile floor is the best choice for you; stop by our showroom and get advice from your experienced flooring team. We're happy to answer your questions and help you find a product that suits your situation and style.



Contact us today and find out how we can help you make the most of your luxury vinyl upgrade. We proudly serve Vaughan, Mississauga, and Oakville, ON.